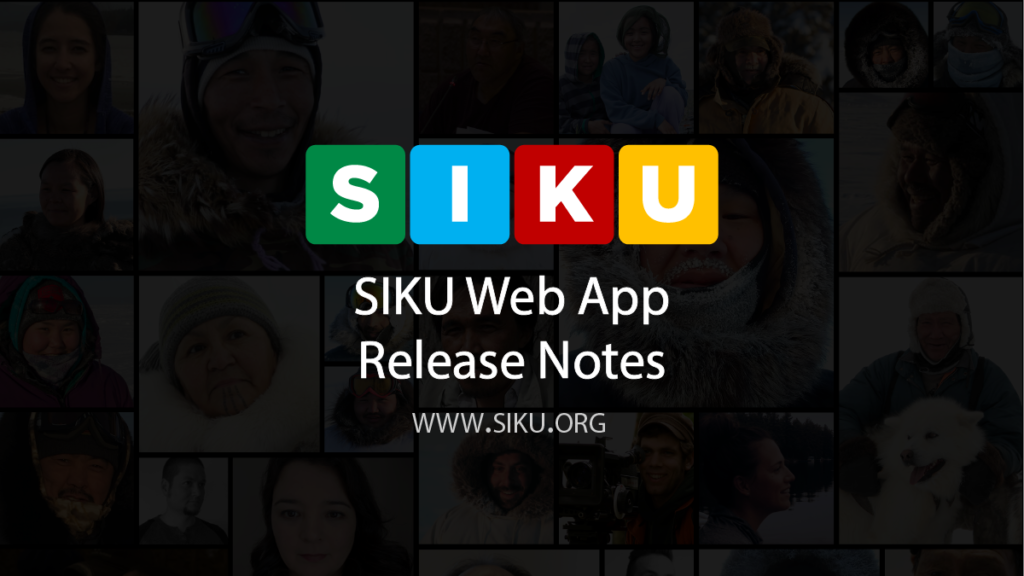 Tuesday, Jan. 26th, 2021
⭐ New
👍 Improvements
Refactored Remote Weather Station framework and UI to more easily add new stations in the future
Adjusted the colour of text labels on the map for various base maps to increase legibility
Added support for Ice Watch Stewardship
Community profile for Postville now displays current weather conditions based on the Postville Weather Station.
Tuesday, Jan. 19th, 2021
⭐ New
Added regional feeds Accessible via Explore menu
👍 Improvements
Added a "Copy Link" option to the sharing menu for all entities
Improved menubar navigation when using siku.org on a mobile device
Tagged all existing communities with appropriate regions
Thursday, May 7th, 2020
👍 Improvements
Optimized layout of photo in feed and detailed view for a portrait photo
Fixed traditional place names with non-Unicode characters
Friday, May 1st, 2020
⭐ New
Goose Watch Feed – See a single feed which lists all species of Goose on SIKU
SIKU First Goose Competition – The competition is now on with promotion and a video on Facebook and SIKU. More details at https://siku.org/first-goose
👍 Improvements
General Improvements to Social posts
You can now Command/control-click on the "More Details" of a feed item to open it in a new tab
Bugs fixes and other improvements
SIKU URL structure has changed. If you are using links in your presentations they may need to be updated.
Monday, March 30th, 2020
⭐ New
A completely new design of Map Filtering
Replaced the "legend" button on the map with a "Map Filter Button". This button opens a panel with advanced options to filter by date, tags and types. This enables entirely new ways to filter the map. Eg. You can now show all of a users trip tracks on the map at the same time
Trips now automatically generate featured photos which displays the track and any linked posts on the map. This photo is shown in the feed and included in any shares to Facebook or Twitter.