Navigate to the SmartBUOY (SB) profile you wish to edit by one of the following methods

Click on a SmartBUOY map icon.
Select an active SB from the SmartICE menu on a Community profile
Browse and select any active or inactive SB from the "SmartBUOY" menu item of the Explore menu.

On a SmartBUOY profile, click "Edit" in the black Action bar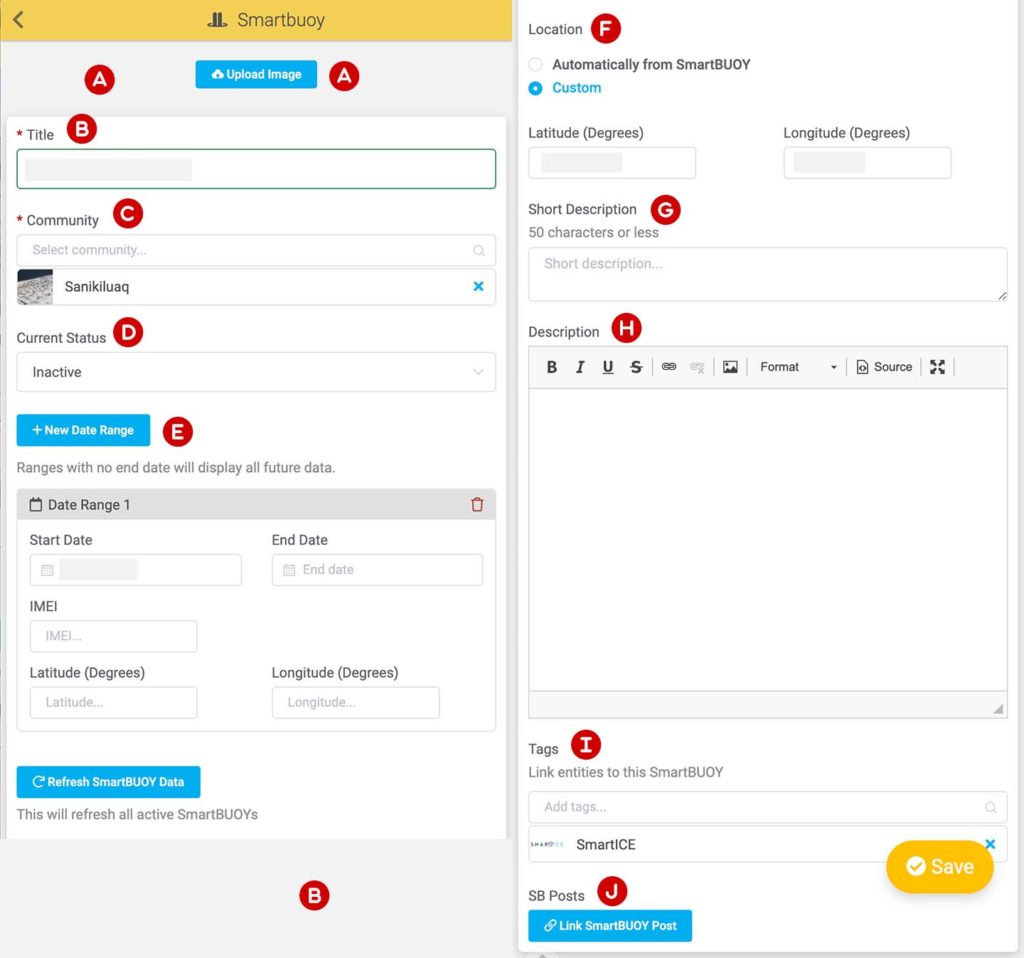 Profile Photo – Upload, Edit or delete the cover photo
Title – Name that will appear in profile and SmartICE community menu. Consider using the traditional place name of the location where the SB is deployed.
Community – Tag the community affiliated with this SB. Only 1 Community can be tagged.
Current Status – Select from Active or Inactive. Inactive SBs do not appear in the community SmartICE menu or fetch new data.
Date Ranges
Start Date: Date that the SB was deployed
End Date: Date that the SB was retrieved
IMEI: Hardware identifier of the SB deployed
Latitude & Longitude: Location of the SmartBUOY
Location – Determines the current location of the SB icon on the map. The GPS units in the SBs can often be quite unreliable and inaccurate. Manually fill in the latitude and longitude using the custom option whenever possible.
Short Description – Description that appears in the menus.
Description – Full HTML description that can include links, photos and video embeds.
Tags – Tag organizations and projects related to the SB. This is usually the SmartICE Organisation and SmartICE Community Project.
Link SmartBUOY Posts – Links to SB posts made using the SIKU apps. Posts can be linked manually if the automatic linking doesn't work.